January 20, 2022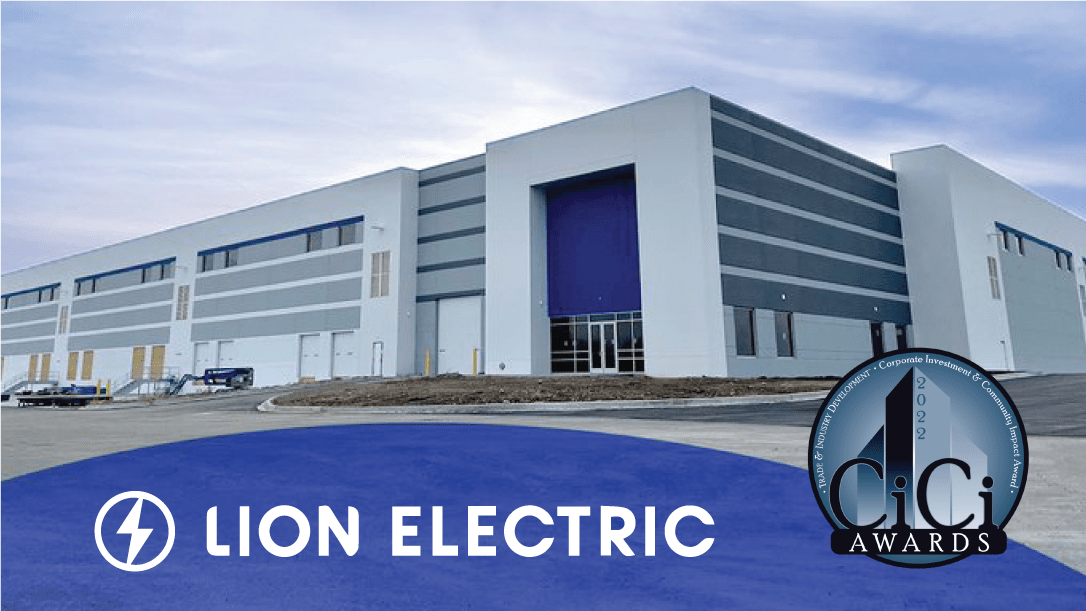 Lion Electric, the Canadian manufacturer of electric buses and trucks, has been named one of the country's top Community Impact projects by Trade & Industry Development magazine. The annual award recognizes companies that make a difference in the community in which they locate.
In May of 2021 Lion announced it would bring its first U.S. manufacturing facility to Illinois, investing $70M in the commercial vehicle production plant, where it will employ more than 700 people. The new facility is the largest dedicated production site for zero-emission medium and heavy-duty vehicles in the U.S. and Lion's biggest footprint in the market.
"Lion is the leader in electric school buses and has always been dedicated to the U.S. market, and our commitment to be close to our customers is one of the core values we have as a company. This significant expansion into the U.S. market will not only allow us to drastically increase our overall manufacturing capacity of electric trucks and buses but to also better serve our customers, while adding critical clean manufacturing jobs that will form the backbone of the green economy," said Marc Bedard, CEO and Founder of Lion.
"Lion's historic investment to bring its largest production facility to Illinois represents not only a win for our communities, but a strong step forward in our work to expand clean energy alternatives and the jobs they bring to our communities," said Governor JB Pritzker.
The impact of Lion's decision to locate in Illinois is expected to be widespread and well beyond the company's initial investment and job projections. The project is anticipated to generate additional economic growth from investment in equipment, supply chain impacts and induced consumption. The growing EV ecosystem, along with the state's central location, access to talent and commitment to a sustainable future are all reasons Lion Electric chose Illinois for its first U.S. manufacturing facility.
Intersect Illinois worked closely with the State's Department of Commerce and Economic Opportunity and partners including the Will County Center for Economic Development and City of Joliet to provide information and resources for Lion Electric during the site selection process.
"Lion's presence will add high quality jobs to Joliet's economy, while adding another innovative force to Illinois and contributing to a more sustainable future," said Intersect Illinois President and CEO Dan Seals.
Lion Electric's decision aligns with the State of Illinois' efforts to advance its green economy and thriving EV ecosystem. In October, 2021 Illinois passed the Reimagining Electric Vehicles Act (REV) into law, providing significant incentives that make it a premier location for EV related companies looking to grow. In addition, in September Governor JB Pritzker signed the historic Climate and Equitable Jobs Act into law, putting Illinois on the path to 100% clean energy. Lion Electric's new plant will bring clean energy jobs and is one more step toward putting Illinois at the forefront of the green economy.
The Illinois Department of Commerce and Economic Opportunity nominated Lion Electric for the CiCi Award, in partnership with Intersect Illinois. Lion Electric was chosen from hundreds of nominees for the value both to the community and the economy as a whole. Read the article here.