April 11, 2022
Creasey to represent the University of Illinois System in helping bring economic development to Illinois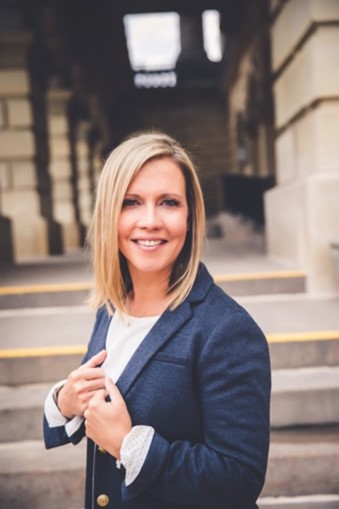 Intersect Illinois today announced that Jennifer Creasey will join its board of directors, helping further the organization's mission of bringing economic growth and jobs to Illinois. Creasey serves as the assistant vice president of External and State Relations for the University of Illinois System and its universities in Urbana-Champaign, Chicago and Springfield.
"Collaboration with the U of I System and the tremendous talent and research it produces will help us attract businesses to the state," said Intersect Illinois CEO Dan Deals. "We welcome Jennifer to our board of directors and look forward to leveraging the U of I's thought leadership and groundbreaking research to help further our mission."
"I am excited to join the Intersect Illinois board and have the opportunity to work alongside such an accomplished set of individuals committed to long-term economic development for the state of Illinois," Creasey said. "Intersect Illinois' vision aligns well with the University of Illinois Systems' work to enhance the state's economic vitality to the benefit of all Illinoisans."
Creasey is responsible for developing and executing long-term strategic legislative and communication plans for the U of I System, cultivating partnerships with stakeholders across the state. She is chair of the University of Illinois System's Council on Governmental and External Relations and has facilitated the advancement of strategic initiatives such as the Discovery Partners Institute, the Illinois Innovation Network and SHIELD Illinois. The University of Illinois System has 94,750 students across its three universities and also includes UI Health, the University of Illinois Hospital & Health Sciences System.
"The University of Illinois System is a huge economic driver of our state's economy," said Intersect Illinois Board Chairman and Loop Capital CEO Jim Reynolds. "Having Jennifer Creasey represent the U of I System on Intersect Illinois' board of directors will help advance our work to spur economic growth across Illinois."
Intersect Illinois' engaged board of directors helps the organization generate public good with private-sector efficiency. The organization works nationally and internationally to make the case for doing business in Illinois. Intersect Illinois assists companies that are considering the state in finding the perfect site, while also providing research and analysis to regional and local economic development organizations throughout the state.
Creasey joins board members from companies including A. Lucas & Sons, Ameren Illinois, ADM, Carle Health, ComEd, 8 Hospitality Group, Illinois REALTORS, Loop Capital and OSF Healthcare.